Business Management & Productivity Software
Hand selected tools that we love, use, and highly recommend when it comes to improving your business.
Gusto Payroll
The best payroll for small business
9 out of 10 customers say Gusto is easier to use than other payroll solutions
Gusto automatically calculates, deposits, and files your payroll taxes
Employees onboard entirely online and get lifetime accounts too
110 preferred provider for self-run payroll
Sign up for easy payroll!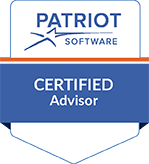 Patriot Full Service Payroll
You enter the hours, Patriot does the rest.
You enter employees work hours online.
Patriot verifies your payroll taxes are withheld and deposited
Patriot files your federal, state, and local payroll tax returns
Free employee portal
Free setup and support
Free direct deposit
Free 30-day trial
Unlimited number of payroll runs.
Learn More!
Payroll is one of our specialties, so if you're looking to outsource your payroll, please don't hesitate to contact us for pricing and specifics.
Mile-IQ - Mileage Tracking App
Stress-free logging. Accurate mileage reports. All in the palm of your hand.
Swipe Right for Business and Left for Personal.
Save 20% when you sign up using our link.
Save 20% Now!
Cloud Security Systems...
LastPass - Password Manager
The best way to manage passwords.
Just remember your master password and LastPass remembers the rest.
Learn More!
Hubdoc - Secure Receipt Storage
Email, photo, or upload your receipts…
Convert it into usable data…
Link it to your accounts for automatic delivery: Fetch bills, sync with accounting software, reduce data entry with OCR technology.
Audit Proof Your Business!
QuickBooks Online - Accounting Software
Cloud accounting software from the leading US provider.
Smarter Tools.
Better Business
Subscribe Today!
Xero - Beautiful Accounting Software
Online accounting software for your small business.
Secure, simple, beautiful accounting.
Sign-up for Xero!
Book a free consultation
CALL 1888 860 4356